Chloe Mowatt
Learning Assistant
During my time at Centre of The Cell, I will be working on special educational need provisions, so that we can be as inclusive as possible, as we want everyone to feel welcome and valued at Centre of The Cell.
When did you start at Centre of the Cell?
October 2022
What is your favourite science fact?
Biology is the only subject where division and multiplication mean the same thing (mitosis, wink wink).
What is a fun fact about yourself?
Christmasses can be very expensive – I have 7 siblings…
Which part of Centre of the Cell excites you the most?
I was really excited by the prospect of science learning in a fun and informal environment, as that is the best way to do it!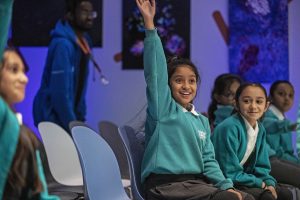 Chloe is a 3rd year Biomedical sciences student at Imperial College London and she is doing a 3-month placement at Centre of the Cell as a final year project. She has particular interest in reproductive health and supporting those with additional educational needs.