Rebecca Hill
Centre Manager
When did you start at Centre of the Cell?
February 2022
What is your favourite science fact?
Astronauts can "grow" up to two inches in space! In microgravity, the spine decompresses, making you up to 3% taller.
What is a fun fact about yourself?
I've held a part of the Hubble Space Telescope
Which part of Centre of the Cell excites you the most?
There are so many exciting projects happening at Centre of the Cell. As the first science education centre in the world to be located within working biomedical research laboratories I'm most excited to be working with scientists and the brilliant learning team to bring cutting edge research to life.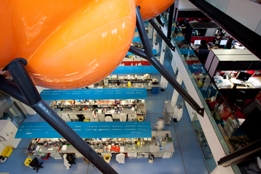 A former science teacher, Rebecca has previously worked various STEM education and public engagement roles including at UKRI, London Transport Museum and Royal Academy of Engineering.