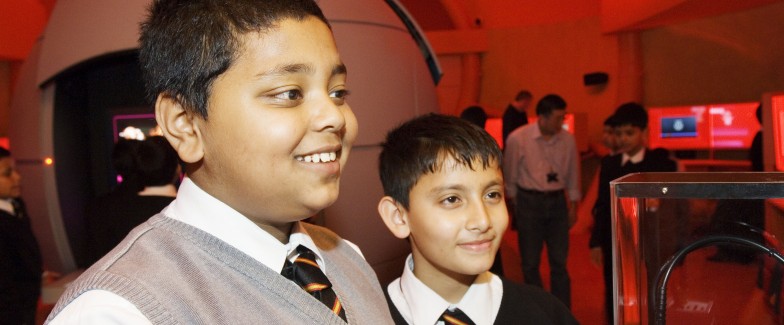 What we offer
Centre of the Cell is a science education centre based at Queen Mary, University of London. It is the first science education centre in the world to be located within working biomedical research laboratories.
Centre of the Cell is located inside our distinctive orange Pod suspended above the laboratories in the Blizard Institute in Barts and The London School of Medicine and Dentistry, so visitors will be able to see research scientists at work as they enter the centre. Once inside, visitors will learn about the amazing world of cells, the human body and the latest medical research.
Centre of the Cell is open Monday – Friday. We offer:
Interactive sessions for schools in the Centre of the Cell Pod during term time. These visits are suitable for pupils in Year 5 to Year 13. For more information about visiting click here. Each session costs £170 and can accommodate up to 40 visitors (including accompanying adults), although we recommend 30 visitors for an optimal experience. To book your pupils in for a visit, please contact our Bookings Officer on 020 7882 2562.
Interactive sessions for families in the Centre of the Cell Pod during the school holidays.
Fun-filled educational science shows and workshops that can be delivered in your school or organisation or onsite alongside a Pod session.
Free online educational activities, games, fun facts and teacher resources. Click here to start exploring.
Centre of the Cell launch their new Public Engagement Activities Guide for Research Projects
Centre of the Cell are pleased to announce the launch of their new guide for Public Engagement activities. The biomedical research of scientists gives Centre of the Cell its unique and cutting-edge content. Centre of the Cell is always looking for opportunities to expand this unique content by further collaborations with scientists.
Would you like to engage young people and the general public with your research? Do you need to fulfil a public engagement requirement in your research grant? Take a look at our informative 'what' and 'how to' document.
We can help you add an innovative public engagement activity to your research grant or other funding applications – and then with its delivery.
If you would like to discuss a proposal in more detail, contact Professor Frances Balkwill (f.balkwill@qmul.ac.uk) for further information.