New Aldgate and Allhallows Learning Officer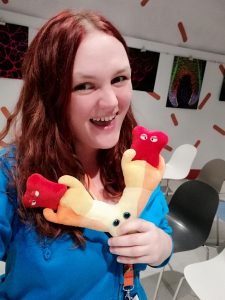 We recently announced that we had secured a generous three-year funding for our Youth Membership Scheme (YMS) from the prestigious Aldgate and Allhallows Foundation. With this funding we have been able to recruit a new Aldgate and Allhallows Learning Officer to manage and support the delivery of our YMS. Myfi Williams, who was previously an Acting Learning and Outreach Officer at Centre of the Cell, is taking on this new role and cannot wait to start organising new events for this year.
Events this year
The pandemic has ignited an interest in health sciences from young people, and we are perfectly placed to help them to take this interest forward into a future career.
We will soon be recruiting a new cohort onto the scheme, and forming a panel of Youth Members to help guide its future. Our Big Question lecture series will also be returning soon, which will involve some brilliant volunteering opportunities for members.
We will also offer a mixture of online and in-person work experience opportunities and events to support members and their STEM journeys throughout the year. And excitingly, our Summer School is also set to return in 2022!
If you are a Youth Member and have some ideas for events this year, then email youthmembers@centreofthecell.org, or message us on social media.
If you are not a Youth Member, and would like to join, download a form here.
We are very grateful to the Aldgate and Allhallows Foundation for their continued support and can't wait get started on relaunching these events.