Queen Mary Alumni Profile
At Centre of the Cell we offer a range of activities for school children and their families which spans the entire primary and secondary curriculum. In order to run this diverse range of activities, we have an excellent team of part-time medical and dental students who are hired with support from the Medical College of St Bartholomew's Trust.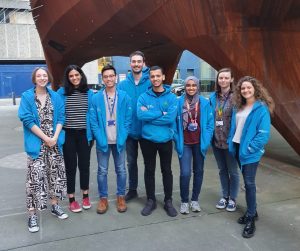 Our students begin their journey with us as Assistant Explainers, and then progress to Explainers after a year or so. These student Explainers run the STEM Pod experience, support the Science Shows, and work on special projects such as writing blog posts (which you can read here), and supporting out of hours events like Big Question Lectures and the MuSci programme.
Recently one of our previous students – Dr Krishan Patel – was featured in a Queen Mary, University of London alumni profile. Krishan started work with us as a first year, and continued on with us right up until graduating in 2019 – the whole five years! We were pleased to see Krishan describe his Explainer role at Centre of the Cell as 'the best job he'd ever had'.
You can read more about Krishan's journey after medical school, and his time at Centre of the Cell here.