Community Shows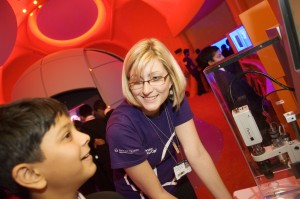 Centre of the Cell is a proud Whitechapel landmark, 2 minutes' walk from Whitechapel Station. This summer we're offering free tickets for Whitechapel and Tower Hamlets families to visit Centre of the Cell.
We'll have events for local families, including a free educational Pod show, in our dedicated venue above the laboratories and offices of the Blizard Institute. The 90-minute experience includes a visit to the Blizard Institute, videos, interactive games, and more. Contact us to find out more and reserve your place in the pod.
Our other community event will be a free session on staying healthy in London's smoggy air, a problem close to the hearts of Tower Hamlets families. Learn about air pollution, asthma, and how to stay healthy with this free workshop for young and old. Contact us to find out more and book.
Finally, we'll be working with the Whitechapel Idea Store to give local families a free Genes and Evolution show. Visit the Idea Store website to find out more.
Genes and Evolution Show in the Whitechapel Idea store
Saturday 24th August 2:30pm – 3:30pm
Pollution workshops
Tuesday 27th August 11:00am – 12:30pm
Tuesday 27th August 2:00pm – 3:30pm
Pod show
Wednesday 28th August 11:00am – 12:30pm
Wednesday 28th August 2:00pm – 3:30pm
Blizard Institute and Queen Mary, University of London staff Pod show
Friday 30th August 11:00am – 12:30pm
For enquiries please call 020 7882 2562 or email info@centreofthecell.org
Please note that children under the age of 14 must be accompanied by a responsible adult (aged 16+) at all times.