Gut Feeling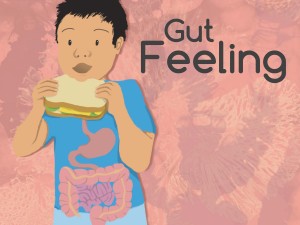 Let us take you on the weird and wonderful journey of one boy's breakfast as it gets chomped and chewed in the mouth, pushed through the oesophagus, churned in stomach acids, absorbed in the intestines and greeted by the toilet bowl! This show will unravel the fascinating structure and function of the digestive tract, why 'we are what we eat', what happens to the guts of patients with bowel diseases, and what makes the perfect poo!
Each session offers the opportunity to take part in a Pod show inside our cell-shaped Pod, suspended over the laboratories of the Blizard Institute.
This event is suitable for children aged 7 – 14 and their families.
Tuesday 13th February 2:00 – 4:15pm
Wednesday 14th February 2:00 – 4:15pm (sold out)
Friday 16th February 11:00am – 1:15pm (sold out)
Click here to book your tickets for these events
Adults (£7.50); Children (£5.50); Concessions (students, over 60s, QMUL staff, disabled visitors) (£5.50); Under 3s (free)
For enquiries please call 020 7882 2562 or email info@centreofthecell.org
Please note that children under the age of 14 must be accompanied by a responsible adult (aged 16+) at all times.
You may also be interested in...