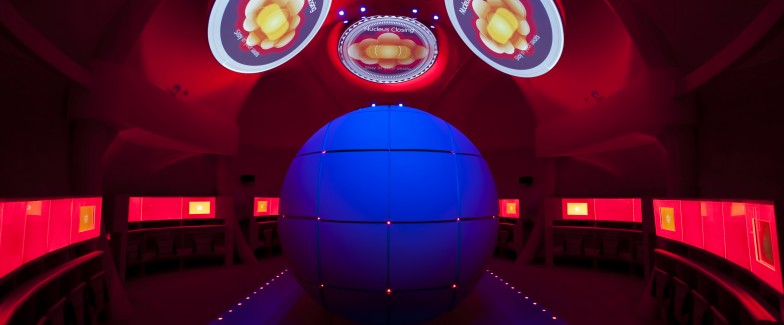 What to expect of a visit to the Pod
On arrival, groups will be met in the building reception by Centre of the Cell Explainers. As well as our trained Explainers, we aim to have at least one medical or dental student and / or scientist join each visiting group to enhance the learning experience and to answer visitors' questions about science and careers. The Explainers will greet everyone, introduce themselves, and welcome you to Barts and The London School of Medicine and Dentistry, and to Centre of the Cell. They will let visitors know what to expect of their visit, making sure that everyone is excited and eager to go! Fire evacuation procedures and other behavioural expectations will also be given.
The group will then proceed to the cloakroom to drop off their coats and bags, and will then cross the bridge to Centre of the Cell's Pod, which is suspended above the laboratories so visitors will be able to see research scientists at work as they enter the centre. Once inside, visitors will learn about the amazing world of cells, the human body and the latest medical research.
The experience includes KS2 – KS5 curriculum-linked interactive games grounded in cell biology and the research happening in the labs below and around the world (click here to see the National Curriculum links). These games utilise the latest digital technologies. Many feature footage of scientists describing their work, and involve games based on that research. These interactive games are enhanced by the films projected onto the ceiling of the Pod which introduce the concepts of cell biology and medical research. Visitors can also enjoy microscopes and specimens from the Pathology Museum such as a human brain, learn about careers in cell biology, and debate the ethical issues surrounding medical research.
At the end of the visit, groups are taken back to the cloakroom to retrieve their belongings. Our gift shop will be open at the end of the visit with a range of items available from 30p to £16.50.
The group will then be led back to the main entrance, where there will be an opportunity to ask any questions they may have following their visit. The entire visit from start to finish lasts around 90 minutes.
'Pod' sessions are suitable for visitors aged 7 and up. A school session can accommodate up to 40 visitors (including accompanying adults), although we recommend 30 visitors for an optimal experience. For the 2018/19 school year the cost will be £170 per session. To book your pupils in for a visit, please contact our Bookings Officer on 020 7882 2562 or email us at info@centreofthecell.org.
If you like, for an additional cost you can also book a workshop or science show in addition to your Pod session.
Book a visit
Teacher Resources
Opening Times for Schools
During term time, session times are as follows:
Monday to Friday:
10:00 – 11:30
11:30 – 13:00
13:30 – 15:00
Our next public session
During school hours the sessions are reserved for school groups, but we also offer sessions during the school holidays for the public to book. The next public session is on:
Pod + In a Heartbeat Show
October 21, 2019 at 2:00 pm