How My Journey as a Biomedical Student Started
By Ekpreet Sahota
To start off this blog series I will be telling you all about how I came to do a Biomedical degree and what my application process was like.
Just a little bit of background about myself – I went to school and college in Newham, London. At A-levels, I studied Maths, Biology and Psychology. I am now in my third and final year of studying BSc Medical Biosciences at Imperial College London!
September 2016 – 2017
During my first year of college I was almost completely certain that I was going to be doing a Maths degree at university. I loved maths, and it seemed like the obvious choice for me since most of my family members had done a degree in either maths, economics or business. I didn't really like science at secondary school either – I chose to do biology at college purely because I couldn't think of another subject to choose!
So how did I get here?
My biology teachers at college were amazing! They were truly passionate about the subject and made the lessons so exciting and engaging. I really enjoyed biology because it was always so unpredictable, and I knew I would always learn something fascinating every lesson. I especially liked learning about genes and evolution because it gave me an insight into how us as humans came to be so complex and how we were able to maintain this complexity throughout generations.
October 2017
Fast-forward to second year of college – it was time for university applications. I was still unsure of what I wanted to do at university but after some discussions with my teachers I was told to go for a degree based on the subject I enjoyed most. That subject was Biology! Here's a piece of advice – make sure the degree you choose will be based on something you enjoy. You don't want to be studying something you won't enjoy for three years! Picking a degree is a big decision and it can be quite scary because we want to ensure we make the right decision – but just trust yourself!
I was initially going to apply for Biology at university, but then a week before I had to send off my UCAS application, I discovered Biomedicine (don't do what I did – research different courses well in advance!). I immediately realised that Biomedicine was the degree I wanted to do. It went much more into detail about human biology, disease and evolution (which I loved learning about), and it didn't include anything about plants or animal biology (which I didn't particularly enjoy learning about). I was also excited to have the opportunity to work in a real laboratory. Read more about what a biomedical degree involves here.
When it came to my personal state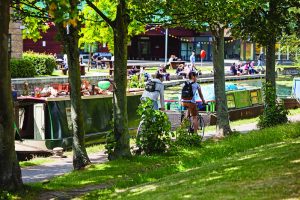 ment, I was quite worried because I didn't have much experience compared to most of my friends. I volunteered a few time in my local area over the summer and that was about it! Nonetheless, my volunteering experience taught me a lot, such as communication skills, leadership skills and how to work well in a team.
In college, I also attended a 'Biology Book Club', where we were able to read books that expanded our knowledge beyond the curriculum. This was a great way for me to discuss my interest in Biomedicine as it showed I was going above and beyond, and that I was broadening my horizons. If there isn't something like this at your school already, why not talk to your teacher and start one – I'm sure many people will be interested! I knew it was important that I strongly reflected on the experience I did have by describing what I had learned and the skills I picked up. For each of my experiences, I found ways in which I could link back what I learned to my passion for Biomedicine – all these things helped make my personal statement stronger despite having fewer extra-curricular activities.
December 2018
Now it was time for me to submit my UCAS application. Some of the key factors which influenced my university choices were location, course structure and the ranking of the university on League Tables. I knew I wanted to stay in London, and that I wanted to attend a Russel Group university, so that easily narrowed down my options to Imperial, Kings College London, UCL, and Queen Mary. Each of the universities also had grade requirements which were in line with my predicted grades. At the time, my preference for each of the universities was mainly based on their league table rankings for medical/biological sciences – but one thing to keep in mind is that this doesn't mean everything when choosing a university! University isn't like school where everyone gets the same curriculum, so it is also important to look at the content and structure of the course and how it is delivered and see which one best suits you, e.g. some universities put more focus on laboratory work than others, some universities required more independent learning, and some universities mainly focus on lecture-based learning.
After I submitted my application, all I could do was just wait. I was quite lucky that I didn't need to do any further entry tests or interviews – but this depends on the universities you're applying to.
January 2018
I finally heard back from all of the universities regarding offers, and I picked Imperial as my first choice . One of the main reasons I chose Imperial was because I found that their course content put a lot of focus on integrating new advancements in biomedical research. The course also had quite a different style of delivery compared to other universities – Imperial adopted the idea of 'flipped learning'. This meant that I would have access to the learning material before the 'lectures' and would have to do a lot of independent reading and learning. My learning would then be consolidated and developed in-class with lecturers and by group-work. (More on lectures in my next blog!).
May – July 2018
Exam season – this was probably the most stressful period of time of them all.
August 2018
It was results day. I was incredibly nervous. But all the hard work had paid off and I got the grades I needed to study at Imperial!
October 2018
I officially started my first year studying Biomedicine.
So, this was how my journey as a Biomedical student started – I hope you enjoyed reading! Read my next blog all about biomedicine lectures here.