What is it like to study neuroscience?
Mya Kianaat
My name is Mya and I am a third-year Neuroscience student at Queen Mary University of London. Neuroscience is the study of the nervous system and its functions. Whilst deciding what to study at university I thought about what I enjoyed, and I realised that although I did find parts of my A Level subjects (Maths, Biology and Chemistry) fascinating, did I really see myself studying any of those for another 3 years? I looked at a range of different subjects and they all sounded compelling, from forensic science to astronomy, so many options appealed to me. It was daunting few weeks, but then I came across Neuroscience. I recalled when I first studied the nervous system in Year 9. My favourite Biology teacher would play YouTube videos for us to watch, and it was very engaging and entertaining. After some more research I decided this was the right subject for me.  
In my course I study neuroscience specific modules as well as modules that we share with other courses such as Biomedical Science. In my first year we were introduced to the basics of Neuroscience, Neuroanatomy, Human Anatomy (which was my favourite), Cell biology and more. There are two terms a year and we have 4 modules each term, but this can depend on the university and course you do. 
In the second year, the modules built up on our first-year knowledge. We did a lot of learning from research papers and articles. Neuroscience is a rapidly progressing discipline with many new advancements, so there are a lot of experiments and research articles to use and read for further knowledge.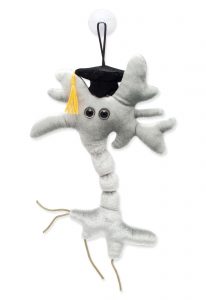 We learned about the different systems in the nervous system; studying how our memory works, the role of the basal ganglia in motor functions and the mechanisms of neurons starting with membrane potentials. We also were able to select optional modules and I elected 'Exploring Psychology' and 'Basic Immunology'. It was intriguing to learn about these disciplines which I had an interest in and see how they linked back to Neuroscience. 
As I mentioned I am currently in my third and final year at university. There is an opportunity for a year abroad between 2nd and 3rd year. In a typical week I have 4 lectures which last 2 hours. Often, I have 2-hour workshops every other week, in which we either do data analysis, further studying, or assessment preparation. Lecture timings can vary; at present I have 11 am starts, with my lectures spread across the week. There are also a range of societies and clubs to join. Currently I am part of QMUL archery society and Teddy Bear Hospital, which is a volunteering group where we visit children in their schools educating them about healthy habits and in the process. This helps remove the fear of doctors and dentists. 
For my final year project, we had a choice of three courses; a lab research project under a supervisor, project skills in life science or engaging the public with science.  
I chose the engagement project in which I am undertaking a placement at Centre of Cell. We also learn different methods to engage the public with different science concepts which I found remarkably interesting. After taking part in labs during my first and second year I realised I did not want that as a career as I really thrive interacting with people, so this project really called to me.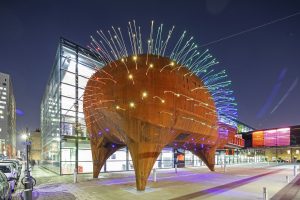 With a neuroscience degree you have lots of options for a future career; you can do research, further studies, or careers in various other fields. University life helps you develop many transferable skills that allow you to enter different fields if you decide you do not want to work in a science environment. For example, currently I am aiming to apply to medicine however my course mate is applying for research in neurogenetics.