Exploring your options at university – Biosciences
Contributors: Carola Bigogno, Charlotte Morgan, Tom Yao, Amelia Gunnarsson, Hannah Mohammed, Safiya Zaloum
There are lots of degree options in the area of bioscience. Here we discuss some of the different options available to you, based on the experience of some of our team members. 
Biomedical science
by Carola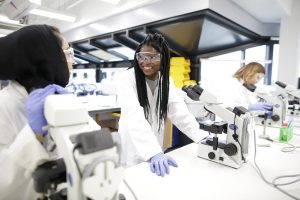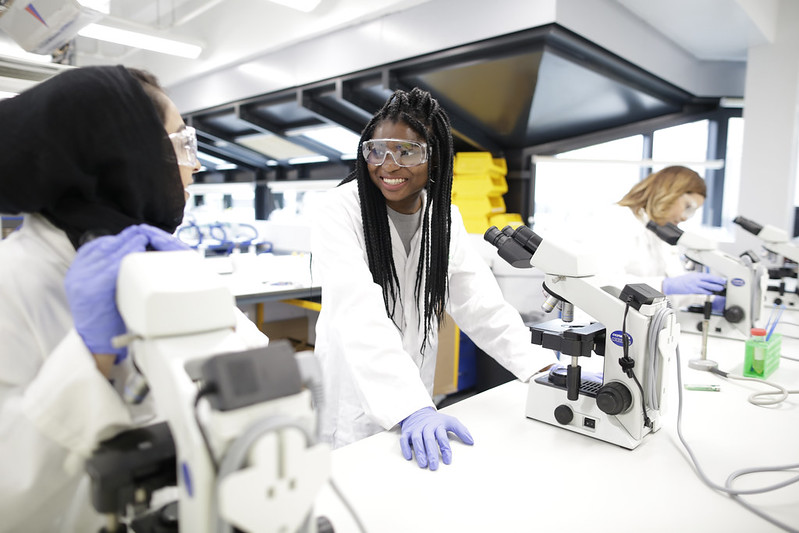 What the degree involves:
Biomedical science is a very interesting degree and an excellent alternative to medicine! The course focuses topics such as anatomy, physiology, genetics and pharmacology. All the modules bring in examples of diseases, where aim is to understand the pathophysiology, i.e. how molecular and genetic changes lead to disease, the reasons for specific symptoms and the rationale behind the treatments used. 
Biomedical Science also involves a lot of practicals in the lab, working on different techniques and again, trying to understand more in depth the pathophysiology and the rationale behind diagnostic tests and treatments.
What jobs it can lead to:
With a biomedical science degree, you are learning so many techniques and skills, and this gives you lots of different career options! The most common outcomes are continued study or working in laboratories. So you might go on to study medicine, or complete a masters degree; or you might get a job working in hospital, university or private laboratories. Many people go on to work for pharmaceutical companies, either in their labs, research & development, or in the business side, and many apply for graduate schemes. Quite a few people also change their careers, doing conversion degrees in engineering, psychology or law, or starting to work in areas such as finance, consultancy, and teaching. 
Biology
by Charlotte
What the degree involves:
If you enjoy learning all about the natural world and the inner workings of our bodies, but you're not sure about what kind of job you want to do in the future, choosing a broad degree title such as biology is great as it allows you to explore a wide variety of topics, while developing essential transferable skills. 
When studying for a biology degree, you will have to complete a number of compulsory modules in order to gain an understanding of the fundamentals of biology. These are likely to cover topics such as genetics, evolution, biodiversity, ecology, cell and molecular biology. You will also complete modules on data analysis and laboratory skills. In addition, you will have a range of optional modules to choose from each year of your degree, so you can pursue your interests. Examples of optional modules may include things like: animal behaviour, ecosystems, climate & environment, plant physiology, reproduction & development, conservation principles, biotechnology, genomics & wildlife forensics, palaeobiology, population ecology, and bioethics. The options available to you will vary between different universities.
You will be taught through a variety of methods, including lectures, tutorials, and practicals. You will learn how to design and carry out experiments, and you will develop skills in scientific writing and presenting. Most biology courses will also offer opportunities to do fieldwork in different parts of the UK, and often even abroad. 
What jobs it can lead to:
There is a wide variety of career options available to biology graduates. Many will choose to do further study and work towards a PhD, where you conduct your own research into a specific area that you are interested in or passionate about. Others may choose to work as scientists in industry, in areas such as pharmaceuticals, agriculture, biotechnology or ecological consultancy. On the other hand, you may decide that you don't want to work as a scientist. The transferable skills gained from studying biology will prepare you to work in a range of other sectors, including media and publishing, finance, business, the civil service, and museums. 
Physiology 
By Tom
What the degree involves:
So what is physiology? Essentially it's about how the body works and understanding what's normal and what happens when things go wrong and people become unwell. You'll learn about topics such as pharmacology, neuroscience, and anatomy. The content is similar to  studying medicine, but with a physiology degree you go into more depth with a narrower range of topics. Luckily as the course goes on, you get to start picking modules you are specifically interested in. These may be topics such as cardiovascular, oncology, endocrinology, microbiology, rehabilitation, sports and exercise science, the list goes on! Hence, you begin to build your own degree and own experience within the fields of physiology. Right at the end of your degree, in final year, you will have to complete a dissertation on a selected topic. This can be stressful but you get an amazing opportunity to explore an area you're interested in. The sense of accomplishment once you hand in your dissertation is second to none! Overall, I would recommend physiology to those who are interested in finding out about how the body works and learning about the intricate science that makes us who we are.
What jobs it can lead to:
After graduating, you will equipped with a broad range of skills valued by employers, so areas within healthcare science that you could explore would include clinical research and/or clinical trials,  healthcare (medicine, pharmacy, physiotherapy), biomedical laboratories, and medical science (radiography, respiratory, immunology, reproductive technology etc.). Beyond the science elements, you could go into a career in pharmaceutical sales, public relations, market research, finance and scientific communications, law conversion (GDL).
Human sciences
by Amelia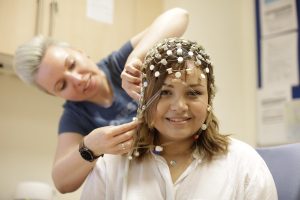 What the degree involves:
I was unsure of which topic area to pursue at university as my favourite topics in school were biology, math, and history. After thinking through potential jobs and what I liked about the different subjects this was whittled down to biology/ bioscience. I eventually chose BSc Human Sciences at UCL (also offered at Oxford) since I was interested in biomed-like courses but also keen to explore areas beyond this, particularly psychology and neuroscience. In the first year you study 8 key modules- Anatomy, Anthropology, Biochemistry, Genetics, Physiology, Psychology, Statistics and Science Communication. The following two years you could choose modules from across the university and science departments, allowing you to study more of what you like and tailor your skillset to your interests and future career. Some of my favorite modules included Anatomy by Dissection, Biology of Ageing,  Drugs and the Mind, Health and Clinical Psychology, and Developmental Neurobiology. 
In contrast my coursemates were focusing on other topics like bioinformatics, social anthropology, science communication or neuroscience and many now are working in these areas. 
What jobs it can lead to:
My coursemates chose different combinations of modules and this is reflected in the diversity of careers they have pursued. About half of Human Science students go on to 'further education' after graduating and the rest enter the workforce in a variety of sectors. Some examples of further study include PhD Bioinformatics, MSc Cognitive Neuroscience, MSc Behaviour Change, MSc Physiotherapy, MSc Sexual and Reproductive Health, MSc Prenatal Genetics and Foetal Medicine, Law, and Healthcare (Physicians Associate, Nursing, Medicine). Some examples of work that my peers went on to after completing the degrees include: an associate at PWC, graduate scheme at Wellcome Trust, documentary filmmaker, research associate on clinical trials, science teacher, scientific journal editor,  physiotherapist, account executive at a science communication company, science manager at the Medical Research Council
Global Health
by Hannah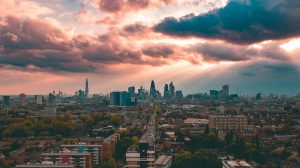 What the degree involves:
I decided to study Global Health at university as I was interested in both biology and politics at A-level. Initially I thought of them as separate subjects, however once I started researching university courses, I came across global health. Global health seeks to understand health and the impact of disease on individuals, communities and our wider society. The course is interdisciplinary in that it combines both medical and non-medical disciplines such as neuroscience, economics, medical anthropology, social policy and more. I was able to focus on my own research interests during my degree, which meant I was able to pursue my own interests and develop my skills as a researcher.  Some examples of global health issues include; the mental health impact of pandemics, the effects of climate change on access to healthcare through to understanding the wider determinants of health inequalities.
What jobs it can lead to:
In the same way that a global health course is very broad so too are the future opportunities following university. One of the key skills I learnt from my degree was critical thinking and this transferable skill is useful for pretty much any future career. From my course many people chose to stay on at university. Others work within the third sector, in NGOs and charities. An example of this kind of work could be working in a refugee camp in Iraq. Others have gone onto to work in government health departments. My journey with global health has led me to medicine where I hope to apply a holistic approach to providing medical care.