Work experience for medicine, dentistry and biosciences
By Amelia Gunnarsson, Emma Elliott & Safiya Zaloum
A number of university degrees, including medicine and dentistry, put an emphasis on gaining work experience prior to university. This is a source of stress for many students, and it may feel as if having the 'right' work experience is the most important factor to secure a spot on your dream degree.
Work experience is an extremely broad and non specific term. Technically this is any activity or experience that helps you prepare for your future career. 
Universities are looking for two key things: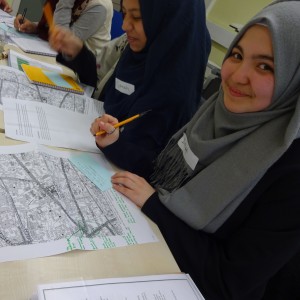 Understanding of the role you are hoping to one day fulfil. For example, if you want to study medicine and become a doctor, clinical work experience will help you understand the realities of working in healthcare. 

The demonstration of skills which will help you succeed in your studies and future career. These are often transferable skills or so called 'soft skills'.
Through work experience, universities can see whether you have developed values, attitudes and behaviours which are crucial to your future career. It is also important that you demonstrate an understanding of the realities of the career you are hoping to go into, especially for healthcare-related degrees.
Different courses require different amounts of work experience. Here we summarise what is needed for medicine, dentistry and other bioscience courses and the types of work experience you might want to do for each. 
Medicine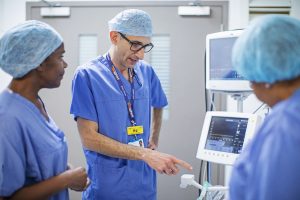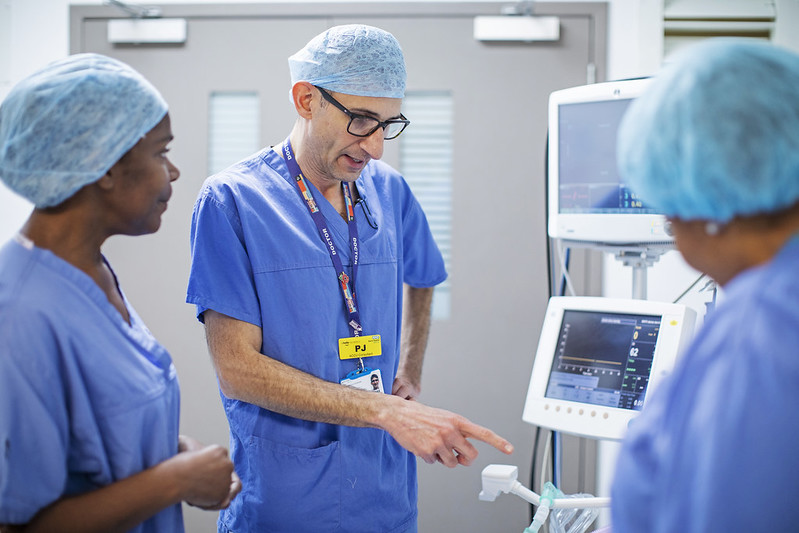 Medical schools vary in what they expect in terms of work experience, so it is worth looking into  specific requirements for the universities you are interested in applying to. For example, some may stipulate work experience needs to be at least two weeks or that you should have experience in both healthcare and non-healthcare settings. Information on work experience and other requirements can be found together with other entry requirements on UCAS or degree webpages. Here is a useful comparison page for what medical schools require in terms of work experience.
Clinical work experience usually involves shadowing in an NHS setting such as a general practice or hospital. Don't worry too much about what you see or if your placement isn't 3 weeks long, the most important thing is for you to get an understanding of the role of a doctor, what qualities are needed to do the role well and what it is like to work in the NHS.
You can find work experience in a number of ways. Some trusts have a centralised process through which you apply for a short work experience course. Other hospitals don't have a system like this and you have to contact doctors or wards directly. Check out this helpful map of the hospitals around the UK that do work experience placements. For GPs you will have to call or email each practice to ask if you could shadow for a few days.
For roles such as medicine and dentistry, experience in people-focused roles can help you demonstrate an understanding of what is required to work in these fields. Experiences such as providing a service or a caring role can give you first-hand experience of the attributes required as a doctor. Be sure to incorporate any general work experience which helps you demonstrate the qualities of a doctor in your personal statement.
Clinical NHS work experience can be difficult to get and medical school admissions are mindful of this. Volunteering is another way of showing universities you have certain skills, and it also demonstrates long-term commitment. This would ideally be in a caring role but every type of volunteering has transferable skills and you can learn from any experience you have. Even if you do work experience, you should try to do volunteering too, as it requires a lot of qualities you will need to become a doctor. Here are some examples of places you could volunteer that are especially relevant to medicine:
Care/ nursing homes

Schools for children with special educational needs

St John's ambulance cadets

Hospices

Nurseries

Volunteering in a hospital – some places take volunteers for things like talking to lonely patients on the wards or making tea and coffee for patients
Volunteering often allows you to get real hands on experience, as well as develop skills such as teamwork, initiative and organisation, all of which are essential for pursuing a career in medicine.
Dentistry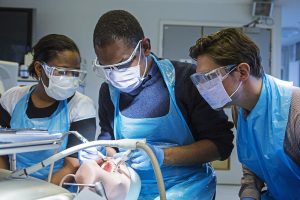 Dental schools generally require a short period (2 weeks) of work experience in healthcare environments, with or without specific dental observation. Most universities want dental applicants to understand what a career in dentistry and healthcare involves; this means your options can be quite wide in terms of work experience.
Ideal work experience would involve shadowing both NHS and private dental practitioners, as comparison between the two sectors does come up in interviews. This can involve securing hands on work experience by shadowing a dentist themselves, or can be as simple as shadowing the reception to understand patient communication in different settings. 
It is often difficult to get work experience in dental clinics, but there is a wide variety of alternative work experience out there for dentistry. Pharmacy work experience can be useful for both patient communication and dental awareness; yellow dental prescriptions are processed by pharmacies and it is useful knowledge to be aware of limitations of prescribing in dentistry.  Work experience in dental laboratories can also be extremely valuable; you can see how dentures and crowns are made by dental technicians and better understand the wider dental team. Some dental schools have students make dentures themselves, and this kind of work experience can give you an upper hand in interviews and at university. 
Outside of work experience there are volunteering opportunities that can give you a better understanding of healthcare roles and can make you a better applicant. Volunteering in a care home is rewarding, but also provides an insight into dental care in later life as care home residents often have difficulty accessing dental services. You will see a fair amount of poorly fitting dentures! Working with elderly residents also aids communication skills and team-working; the UK has an aging population and as a future dentist you need to be able to communicate effectively with older generations. 
Other volunteering can come in the forms of working as a youth leader in the Scouts or Girl Guides, a challenging opportunity that will train you in first aid and in the art of communicating with children; a never ending difficulty within paediatric dentistry. You could also volunteer for youth clubs, charity shops, sports teams and local charity events. Dental schools appreciate your individuality, so you can volunteer in anything you want – just make sure that when you talk about it, your passion for it shines through. 
Bioscience degrees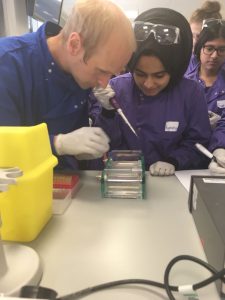 Specific work experience is not a requirement for bioscience degrees such as biology and zoology, however, you will need to demonstrate a passion for your chosen subject, as well as the transferable skills required to complete a degree in your personal statement. For this reason we recommend that you do some work experience and/or volunteering to support your university application.
If you can, doing work experience specific to your subject area will be really useful, as you'll gain a better understanding of the field and you'll be able to demonstrate your interest in your personal statement. If you're not sure where to find bioscience work experience opportunities, have a look at the most popular jobs done by graduates who did the same course. Universities often share the destination of their graduates on their websites, or you can use websites such as Prospects, who have a tool for researching this kind of thing. Then do some research and see if you can find a work experience opportunity in your local area. This could be at a laboratory, tech company or charity, for example. Some organisations run formal work experience programmes which you can apply for; others may not have a formal programme, but would still be happy to host a placement – don't be afraid to email or ring up and ask. 
Some local opportunities in London include:
(Please note these may be affected by closures due to COVID-19. See our separate blog post about getting work experience during the pandemic.)
Now is a great time to explore your options and try things out before committing to a particular course or career path. For example, you may learn through working in a lab that you enjoy the procedure and independence, or conversely that you are more interested in working in a people-facing job. 
It can sometimes be difficult to get work experience specific to bioscience degrees, but you can demonstrate your passion for your chosen subject in other ways, such as reading books, attending lectures, and taking online courses. However it will always be worthwhile doing other types of work experience or volunteering, as these will enable you to demonstrate transferable skills such as organisation, communication, commitment and the ability to work well in a team.
There are lots of things you can do to develop and demonstrate these skills. For example, you could work as a tutor, or get involved with mentoring schemes and science clubs at your school. You could help run activities for scouts or guides groups, or volunteer in a charity shop. Doing a work experience placement in an office or retail setting will also help you gain valuable skills that will strengthen your university application. 
Conclusion
Work experience is invaluable for a number of reasons. It can give you a true understanding of a particular career path or field of study, but it will also help you develop many skills that are essential while studying at university. The specific work experience you do is less important than your ability to reflect on what you did, and discuss these reflections in your personal statement. You can read more about reflecting on work experience here.