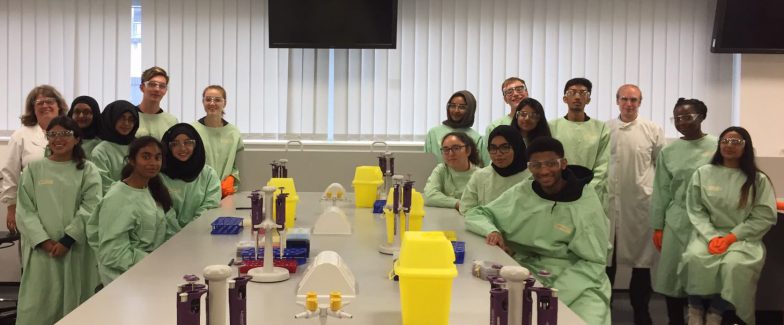 Youth Membership Scheme
Centre of the Cell's Youth Membership Scheme is open to all young people aged 14-19 and offers a range of activities and opportunities, including:
• Work experience and volunteering opportunities
• Careers advice
• The chance to meet scientists and healthcare professionals
• Mentoring and revision sessions with scientists, Medicine and Dentistry students and Centre of the Cell staff
• Opportunity to be part of the Youth Forum
• Opportunity to take part in special projects with Centre of the Cell, such as developing new content and resources
All events and volunteering opportunities are available on a first come, first served basis. Youth members are encouraged to demonstrate their interest and motivation by enrolling themselves and maintaining their own bookings for events.
To enroll, please complete and return the application form, which can be downloaded here.
Email youthmembers@centreofthecell.org with any enquiries.
              

Upcoming Events:
The Big Question Lecture – Thursday 8th of November 2018
Centre of the Cell's Big Question Lecture series gives you a chance to hear biology experts discuss their work and ask them questions about it.
Our next Big Question Lecture will be:
 "Hidden enemies: What was the real killer of World War One?" with Professor John Oxford.
As World War One drew to a close, a new enemy emerged. By the end of 1918, a dangerous influenza virus had swept through the globe, resulting in the deaths of 50 – 100 million people. Join Professor John Oxford, the UK's leading flu expert, as we explore what made this pandemic so deadly, and hear about Professor Oxford's ongoing quest to pin down the genetic structure of the 1918 flu virus.
Where: Perrin Lecture Theatre, Blizard Institute, 4 Newark Street, London, E1 2AT
When: Thursday 8th November from 6pm
Format:
6.00pm – 6.15pm: Introduction from Professors Fran Balkwill and Jo Martin
6.15pm – 7.00pm: Big Question lecture
7.00pm – 7.15pm: Questions
7.15 – 8.00pm: Refreshments in the Nucleus Café, where there will also be WW1-themed displays
It is free to attend this event, but booking is essential. Over 14s only. Please book your place here
Please note that a photographer will be present throughout the event. If you do not wish to be photographed please mention this at registration.
About the speaker:
Professor Oxford is an Emeritus Professor of Virology at Queen Mary University of London. He founded Retroscreen Virology, a leading scientific research company in the field of vaccine and anti-viral clinical trials. As a top expert on influenza, Professor Oxford regularly appears on the BBC, ITV and Channel 4 news, and recently took part in a Podcast series entitled "Going Viral: The Mother of All Pandemics".